Andrew J. Baranowski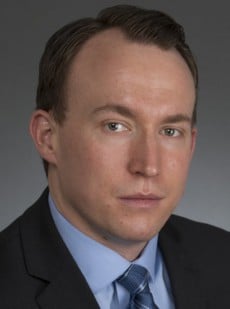 Disclaimer
Your use of this website and any communications with Sutin, Thayer & Browne law firm through this website do not constitute or create an attorney-client relationship with Sutin, Thayer & Browne. You do not have an attorney-client relationship with Sutin, Thayer & Browne and cannot expect Sutin, Thayer & Browne to take any action on your behalf unless and until you and Sutin, Thayer & Browne make an explicit agreement setting forth the scope of representation, the fee arrangement and other relevant matters. Any information you send to Sutin, Thayer & Browne law firm through this website is non-confidential and non-privileged. Do not send or include any information in your email that you consider to be confidential or privileged.
Phone: (505) 883-3429
Fax: (505) 855-9531
ANDREW J. BARANOWSKI is a member of the firm's commercial group. He practices primarily in the areas of real estate, business and corporate law, banking and financial services law, mergers and acquisitions, and tax law.
Mr. Baranowski has established a diverse commercial practice across several related fields since joining the firm in 2013, including for nonprofit and for-profit enterprises. In his business law and mergers and acquisitions practices, Mr. Baranowski assists businesses and nonprofit organizations with a wide variety of matters, ranging from formation and governance issues to asset and stock sales to tax audit and compliance matters. He represents commercial real estate clients in the purchase and sale of property by drafting purchase and use agreements, helping secure financing, and performing due diligence. Mr. Baranowski helps energy companies navigate the complex federal and state regulatory framework associated with New Mexico's abundant natural resources. Mr. Baranowski's tax law practice focuses on representing individuals and businesses through the audit, assessment and protest procedures of New Mexico's unique state tax system.
During law school, Mr. Baranowski was founder and co-captain of the school's Transactional LawMeet team, a national competition for law students interested in commercial law practice. He also participated in Arizona's unique Law, Entrepreneurship, and Innovation program, which allows third-year law students to work collaboratively with young startup businesses.

Education
University of Arizona James E. Rogers College of Law, 2013, J.D.
University of Arizona, 2008, B.S. Business Management and Entrepreneurship cum laude
Recognitions
Martindale-Hubbell rating: AV Preeminent
Leadership Albuquerque, Class of 2017
Morris K. Udall Inn of Court, Pupil Member 2012-13
James Lenoir Tax Law Scholarship
Dean's List, James E. Rogers College of Law
Arizona Law Delegates
Professional & Community Involvement
Albuquerque Bar Association
New Mexico State Bar Business Law Section
New Mexico State Bar Real Property, Probate and Trust Section
New Mexico State Bar Young Lawyers Division
American Bar Association
Young Lawyers Division / UNM School of Law Mentorship Program, 2015
New Mexico Association of Commerce and Industry: Entrepreneurship Committee, Taxation Committee
Representative Experience
Represented multinational renewable energy company in the $125 million sale of its wind energy project assets in New Mexico. Involved in performing due diligence, primarily involving analyzing any potential restrictions on the sale arising out of the more than 50 leases and surface use agreements with abutting landowners.
Represented regional restaurant chain in the $15 million sale of its assets. Involved in drafting asset purchase agreement and related schedules and performing due diligence, including analyzing and summarizing all the client's existing agreements.
Represented regional energy company in extending its secured credit facility with lenders from $300 million to $345 million. Involved in drafting resolutions approving the extension for borrower and its affiliates and supervising the collection and dissemination of due diligence materials.
Represented entity in soliciting investors for a $10 million commercial real estate private placement. Involved in drafting the subscription agreement and fact-checking the details of the offering.
Represented multistate home developer in several ongoing transactions (various purchase prices, but typically ranging $400,000-$600,000 each) to purchase residential lots for development and resale. Involved in drafting purchase and sale agreements and other transaction documents, analyzing title reports, and advising client on various risks associated with transactions.