Stefan R. Chacón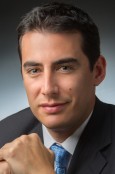 Disclaimer
Your use of this website and any communications with Sutin, Thayer & Browne law firm through this website do not constitute or create an attorney-client relationship with Sutin, Thayer & Browne. You do not have an attorney-client relationship with Sutin, Thayer & Browne and cannot expect Sutin, Thayer & Browne to take any action on your behalf unless and until you and Sutin, Thayer & Browne make an explicit agreement setting forth the scope of representation, the fee arrangement and other relevant matters. Any information you send to Sutin, Thayer & Browne law firm through this website is non-confidential and non-privileged. Do not send or include any information in your email that you consider to be confidential or privileged.
Phone: (505) 883-3342
Fax: (505) 855-9532
STEFAN R. CHACON is Counsel in the Albuquerque office. His practice involves Healthcare Fraud and Abuse, Qui-Tam Actions (FCA and FATA), Government Investigations, Commercial and other Civil Litigation, Healthcare Compliance, and Professional Licensure. Stefan has represented a broad variety of clients in healthcare and other industries.
Stefan's health law practice covers a full range of providers, from hospitals, nursing homes, and large FQHCs to solo family practices and dental offices. He advises healthcare clients on billing and reimbursement, compliance, risk management, employment matters, general contracting, licensing, and many other issues unique to the industry. Stefan is on the Board and is a former Chair of the New Mexico State Bar Health Law Section and teaches a course on "Healthcare Fraud and Abuse" at the University of New Mexico School of Law. He is also Chair of the ABA Health Law Section's Litigation and Risk Management Interest Group. As part of his involvement in these organizations, Stefan has spoken at several conferences and meetings of lawyers and healthcare professionals.
Beyond healthcare, Stefan maintains an active commercial litigation practice, representing organizations large and small in disputes involving contracts, business torts, corporate governance, land use, and employment. Stefan offers his litigation clients aggressive and efficient representation, helping them identify creative strategies to navigate the litigation process so they can focus on their business.
A native of Taos, New Mexico, Stefan earned his B.S. in Economics from the University of LaVerne, and his J.D. from The George Washington University. Before law school, Stefan served in the Peace Corps in Ecuador, where he worked in small business development and microfinance. While in law school, he earned positions on the Moot Court and Mock Trial Boards, and served as President of the Hispanic Law Student Association. He also interned at the White House Council on Environmental Quality. After law school, Stefan clerked for the Honorable Richard C. Bosson of the New Mexico Supreme Court. He is admitted to practice law in California and New Mexico and is fluent in Spanish.
Admissions
State Bar of New Mexico
State Bar of California
U.S. District Court, District of New Mexico
10th Circuit U.S. Court of Appeals
Education
The George Washington University Law School, 2009, J.D.
University of LaVerne, 2003, B.S. in Economics
Publications & Speeches
Speaking Engagements
"Real Life Ethics of Diversity and Inclusion," ABA Health Law Roundtable, 2020. Co-presented with Julian Rivera, Husch Blackwell.
Legal Education Institute (Colorado)
New Mexico Primary Care Association
New Mexico State Bar Health Law Section Annual Symposium
ABA Health Law Section's Conference on Emerging Issues in Healthcare
New Mexico Health Care Association
Recognitions
Chair, ABA National Health Law Section for Litigation and Risk Management, 2019-present
Super Lawyers: Southwest Rising Star, 2018-2020
Chair, New Mexico State Bar Health Law Section, 2018
Professional & Community Involvement
Adjunct Professor, Healthcare Fraud and Abuse, University of New Mexico School of Law
ABA Health Law Section
New Mexico State Bar Health Law Section
New Mexico Hispanic Bar Association
Representative Experience
Represented several healthcare facilities in complex Fraud Against Taxpayers Act litigation.
Tried multimillion-dollar land dispute case.
Represented multiple healthcare entities with state and federal government investigations, including investigations involving whistleblower complaints, and allegations of false claims.
Represented a variety of different healthcare providers, from primary care physicians to nursing homes, in administrative proceedings before regulatory agencies.
Represented numerous healthcare and other licensees in proceedings before licensing and disciplinary boards, including evidentiary hearings and trials.*
____
* Represent a number of healthcare clients throughout the state in general compliance, employment, and litigation matters.