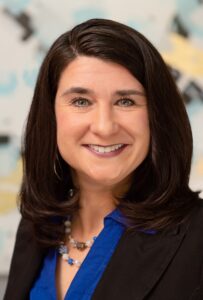 Maria Montoya Chavez has been unanimously elected as the new President and CEO of one of New Mexico's most highly-accredited law firms, Sutin, Thayer & Browne. This election launches an era of diversity and evolvement, as Maria is not only the first female CEO of the Firm, but also the first Hispanic. This change comes after 77 years of Firm history.
Sutin, Thayer & Browne has been a majority women-owned business for several years. "It is long past due that a women-owned law firm be led by a phenomenal woman," says Benjamin Thomas, former President and CEO. "Maria is the heart and soul of this Firm. She will lead this great Firm in her own excellent way."
Maria has spent the majority of her life in New Mexico, being raised in Santa Fe, and received her B.S. at the University of New Mexico. Immediately following the completion of her Juris Doctorate from St. Mary's University in San Antonio, Texas, Maria returned home in 2000, and joined Sutin, Thayer & Browne. Although she didn't intend to practice Family Law upon entering the field, she soon came to find it was her calling. "I was the first attorney to convince Firm management to have a Family Law attorney aboard and assisted with building the Family Law division," Maria explains.
This paid off, as Maria currently practices exclusively in Family Law: divorce, child custody, child support, alimony, and the division of complex assets, etc. She is a Collaborative Law attorney and enjoys serving as a mediator and settlement facilitator. Over her many years at the Firm, Maria has led in numerous different arenas, including four years on our Board of Directors, as well as serving as Vice President for two years. She was also on the Board of the New Mexico Collaborative Practice Group and was the Vice President for Del Norte Rotary Club of Albuquerque. Maria has been awarded as Albuquerque Lawyer of the Year in Family Law Mediation in 2020, 2022, and 2024 by Best Lawyers in America. Readers of the Albuquerque Journal voted her a Top Divorce Attorney in the Readers' Choice Awards for three years.
Maria is recognized and endorsed by both her clients and her peers. "Maria has always been an amazing leader, inside and outside of the Firm," says Vice President, Mariposa Padilla Sivage. "I'm excited for her vision for the future and her commitment to diversity in the practice of law. She will bring incredible wisdom, humor, strength, and tenacity to the leadership of this Firm."
Jay Rosenblum, forty-year Sutin attorney and former CEO is enthusiastic about how the change will encourage the Firms attorneys. "People who hire our Firm expect the best, and she will inspire us to do our best work and to achieve excellence in our representation of our clients," Rosenblum said. "We are very excited that Maria is taking the helm at this point in our long history."
"I believe we have the right people in place, which will assist in delivering quality legal services to our clients," Maria adds. "I've served in the trenches by the sides of many while at the Firm and I am honored to now lead the charge."