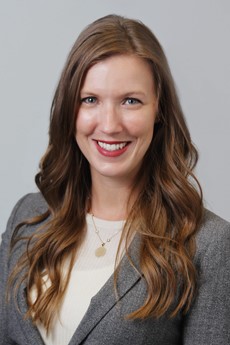 Amanda E. Cvinar has joined Sutin, Thayer & Browne as an Associate Attorney. As a member of the Firm's Commercial Group, she practices in the areas of business and corporate law, intellectual property, mergers and acquisitions, liquor licensing, estate planning, renewable energy development and public finance, where she drafts loan and due diligence documents.
She holds a B.A. in Archeology/Anthropology, with honors, from the University of North Carolina at Chapel Hill and an M.A. in Cultural Resource Management, with honors, from Adams State University. Amanda earned her J.D. from the University of New Mexico School of Law in 2021.
While pursuing her J.D., Amanda served as a law clerk to the New Mexico Office of the Attorney General and as a legal extern for the Public Regulations Commission. She also clerked for Sutin, where she assisted clients with forming, governing, and selling their businesses and with trademark applications to the USPTO. Prior to entering law school, Amanda worked as an environmental compliance professional and technical program lead at Los Alamos National Laboratory. She used this experience to provide the foundation for her Master's thesis to fulfill federal and environmental regulatory requirements.