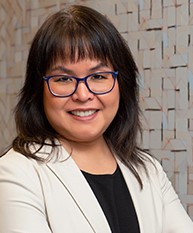 Kaythee Hlaing has joined Sutin, Thayer & Browne as the firm's newest lawyer. She is a seasoned litigator who brings an extensive background in trials, civil litigation, and arbitrations with special expertise in trial preparation, litigation strategy, and discovery management.
Prior to joining Sutin, Kaythee served as Assistant Attorney General for the New Mexico Office of the Attorney General, where she built on her experience garnered during her tenure as Assistant District Attorney for the Bernalillo County District Attorney's Office. She also worked as an associate attorney at a private law office in Albuquerque. For seven years prior to law school, she was a mutual funds associate and licensed broker (Series 7, 63, and 6) for Thornburg Investment Management.
Kaythee received her J.D. from the University of New Mexico School of Law. She is fluent in Burmese and conversant in basic French and Japanese.