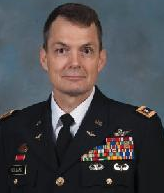 Colonel Christopher A. Holland, a lawyer with Sutin, Thayer & Browne, graduated from the U.S. Army War College with a master's degree in Strategic Studies on July 28, 2017.
Holland, a resident of Albuquerque, is a member of the New Mexico Army National Guard. He currently serves on the staff of the New Mexico Joint Forces Headquarters in Santa Fe. He has practiced with the New Mexico law firm since 1996.
"This program gave me an appreciation for strategic vision and the importance of all elements of power—diplomatic, economic, informational and military—to the achievement of strategic ends," Holland said.
Gen. David G. Perkins, Commander, U.S. Army, Training and Doctrine Command, addressed the graduates about Army readiness and future leadership challenges in a complex world.
The U.S. Army War College, in Carlisle, Pa., has a two-year distance education program that develops senior military officers from the Army, Navy, Air Force and Marine Corps, as well as senior foreign military officers and civilian officials from a variety of federal agencies, to serve in strategic-level command and staff positions worldwide.