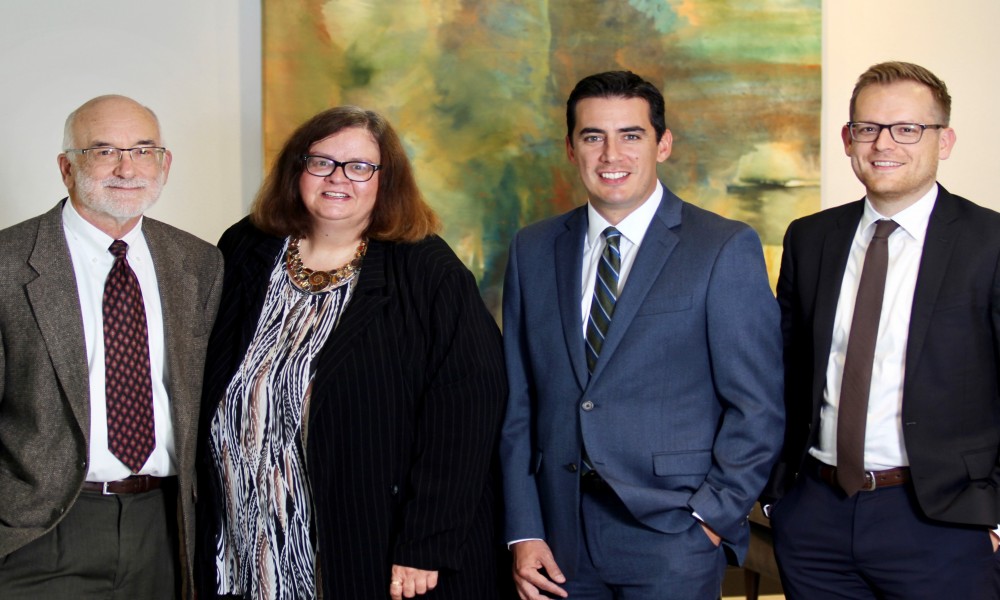 Sutin is pleased to introduce its new healthcare law powerhouse group.
Joining the firm (left to right) are: David H. Johnson, Deborah E. Mann, Stefan R. Chacon and Jesse D. Hale, four of New Mexico's leading healthcare law attorneys.
David represents healthcare providers throughout New Mexico in regulatory, operational, transactional, fraud and abuse, and litigation matters.  His clients include hospitals, medical groups, ASCs and imaging centers, home care and long-term care organizations, as well as individual healthcare professionals.
Deb's practice includes counseling clients on health law, institutional and professional malpractice, and insurance defense matters, as well as serving as a mediator in a variety of civil disputes.  In the healthcare arena, Deb has represented hospitals, nursing homes, residential treatment centers, and individual providers including doctors, nurses, occupational therapists and dentists in personal injury and wrongful death cases.  She is particularly knowledgeable regarding HIPAA compliance issues. She represents hospitals and physician groups being investigated by the U.S. Department of Health & Human Services, the Office of Civil Rights for alleged HIPAA violations and alleged discrimination.
Stefan is counsel in the Albuquerque office litigation group. His practice involves healthcare fraud and abuse, qui-tam actions (FCA and FATA), government investigations, commercial and other civil litigation, healthcare compliance, and professional licensure. Stefan represents a broad variety of clients in healthcare and other industries.
Jesse belongs to the firm's litigation group and practices primarily in the areas of healthcare law and commercial litigation. Jesse is a University of New Mexico School of Law alum. During law school, he served as a board member for the Association of Public Interest Law and the student chapter of the American Civil Liberties Union. Before law school, he was a member of the campaign and official staffs of U.S. Senator Tom Udall.