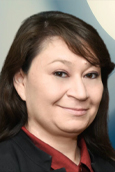 Phone: (505) 883-3311
Fax: (505) 888-6565
ANGELA R. MINEFEE is a paralegal in the firm's Commercial Group where her focus is in public finance and corporate law. She also has experience in corporate formations, domestic relations, and workers' compensation. Angela has been working in the industry since 2014 and earned her Associate's Degree in Paralegal Studies from Central New Mexico Community College (CNM) in 2017. She joined Sutin, Thayer & Browne in 2021.
During her tenure as a paralegal, she has served in a number of leadership roles within the State Bar of New Mexico Paralegal Division: Treasurer, 2018 and 2019; Chair-Elect, 2020; and Chair, 2021.