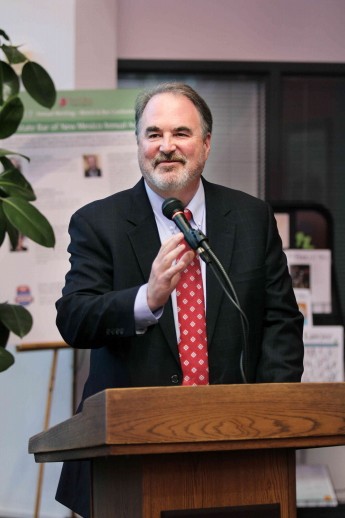 Sutin, Thayer & Browne president and CEO Jay D. Rosenblum has been selected New Mexico's 2017 Business Lawyer of the Year.
The State Bar of New Mexico's Business Law Section honored Mr. Rosenblum for his contributions to business law and to New Mexico at a public reception November 15, 2017, at the State Bar offices in Albuquerque.
Mr. Rosenblum has practiced law in Albuquerque for 35 years and has served as managing partner of his firm since January 1, 2000. His practice includes business design, corporate and estate work, and philanthropic legal matters. He currently serves on the Albuquerque Chamber of Commerce board of directors and as a private trustee for a Colorado philanthropic foundation. He serves on the board of directors of the Parker Center for Family Business, a nonprofit affiliate of University of New Mexico's Anderson School of Management. He has served as past chair of the New Mexico Community Foundation and was a recipient of the 2013 Zia Award, a recognition annually given to distinguished alumni of UNM.
Mr. Rosenblum is regularly selected for inclusion in national and international legal directories such as Best Lawyers in America, Martindale-Hubbell and Chambers USA.  He earned his law degree in 1982 from the UNM School of Law and his undergraduate degree in 1978 from UNM.
His avocation is playing bass for New Mexico's Western Swing band the Curio Cowboys and their various swing and country offshoots.
PHOTO CREDIT: ROBERT J. JOHNSTON