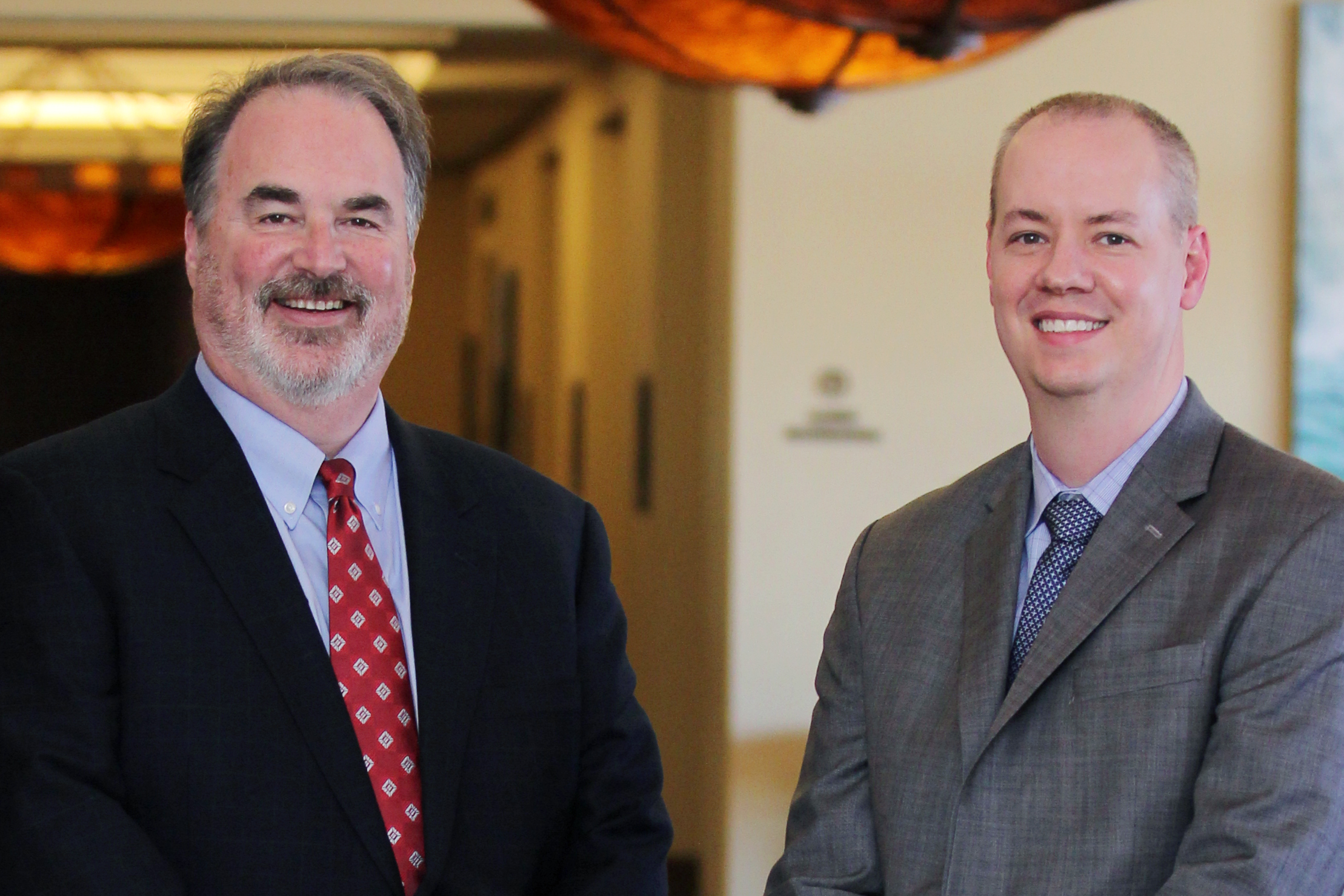 Sutin, Thayer & Browne law firm in New Mexico has changed at the top for the first time in 18 years.
Litigation lawyer Benjamin E. Thomas has been elected President & Chief Executive Officer of the firm.
Jay D. Rosenblum, President and CEO since 2000, becomes the firm's Chairman of the Board and resumes his corporate law practice full time.
Thomas, 40, joined the firm in 2003, practicing primarily in commercial litigation with a focus on employment law and banking/financial law. In his 15 years at Sutin, Thayer & Browne, Thomas has held successively more responsible positions, including chairing internal committees and working up to board of directors placement and board officer elections. He has served and supported various community groups throughout that time.
"This is exciting," Thomas said. "My law partners, as mentors, taught me how to be effective for my clients. They also introduced me to my wife, Tammy, with whom I have two wonderful boys. This firm has shaped my life over the last 15 years both personally and professionally."
"I look forward to the opportunity and the challenge," Thomas said. "Thankfully, Jay is just a couple offices away from me.  He has done such a great job of setting our firm on the path of success for the future.  We have a great leadership team here, and I'm eager to work with all of them."
Thomas spent much of his childhood in Santa Fe, graduating in the mid-1990s from Capital High School and leaving for Vanderbilt University, where he earned his bachelor's degree in 1999. He went on to Boston University, where he earned his law degree in 2003 and a master's degree in international relations in 2004.
Currently, Thomas practices primarily in employment and banking/financial law and is regularly featured in several distinguished international lawyer referral directories: Chambers USA, Best Lawyers in America, Benchmark Litigation and Super Lawyers, and he holds the highest peer review rating available from Martindale-Hubbell: AV Preeminent. He is active in the community in such organizations as the Jewish Community Center of Greater Albuquerque (board member) and The Storehouse of New Mexico (board member). He also is a legal instructor for the Western States School of Banking.
Rosenblum, 61, said he is pleased to hand the reins to Thomas.
"Ben is the right person and this is the right time," Rosenblum said. "Our Firm is in excellent shape, and it's wonderful to have such a great transition."
Rosenblum said he looks forward to focusing full-time on his corporate and estate law practice and spending more time making music with The Curio Cowboys, a retro-Western-swing dance band. He plays bass in the band and is the sound engineer for the band's recording studio in Albuquerque. Rosenblum grew up in Albuquerque and joined Sutin, Thayer & Browne upon law school graduation in 1982.
Board member Mariposa Padilla Sivage said the shift is going as hoped: "We have worked toward this change for a little while now and are seeing a seamless transition between Jay and Ben," she said. "It is working out beautifully for everyone."
The changes took effect January 1, 2018.
—–
Photograph by Robert J. Johnson