Brian Yardman-Frank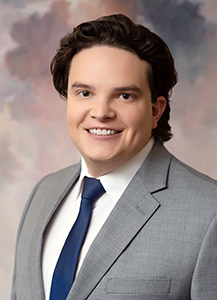 Phone: (505) 883-3434
Fax: (505) 855-9546
BRIAN YARDMAN-FRANK is a member of the firm's commercial group. His is a broad transactional law practice with a focus in areas that include renewable energy and regulatory and administrative law. He holds a Certification in Natural Resources and Environmental Law.
Prior to joining the firm, Brian clerked for several Albuquerque law firms, including more than a year with Sutin. During this time, he provided legal support on legal topics including civil rights litigation, labor and employment law, professional ethics, Public Regulatory Commission activity, and trust and estate litigation.
As a law student, Brian served as a torts tutor for Professional Carol Suzuki and as research assistant to Professor Joseph Schremmer. Prior to law school, he worked as a sommelier and volunteered as a service dog trainer.
Brian is conversational in Spanish.
Education
University of New Mexico School of Law, 2023, J.D., cum laude. Certification in Natural Resources and Environmental Law
University of New Mexico, 2017, B.A., Philosophy & Interdisciplinary Honors Studies, cum laude
Professional & Community Involvement
Provided advisory support to delegations and NGOs at the United Nations' 19th Conference of the Parties for the Convention on the International Trade of Endangered Species of Flora and Fauna, Panama City, Panama, 2022
Legal observer, National Lawyers Guild, 2020-present
Member, Association for Public Interest Law, 2020-2023
Member, Environmental Law Society, 2020-2023